Everything You Need To Know About BMW Oil Changes
An oil change is a simple but vital service that your BMW needs to continue delivering the thrilling driving experience you know and love. While the process - draining the dirty oil from your engine and replacing it with clean oil - may seem simple, it is nonetheless very important to the longevity and performance of your vehicle. Motor oil allows the moving parts of your BMW's engine to work without creating friction or heat, and also prevents dirt from building up on your engine. When your oil is dirty and needs to be changed, your engine has to work harder and won't deliver the same driving experience, and this could potentially be damaging to your engine.
We know that there are a handful of different dealerships and auto body shops in the greater Burlington area that could service your car - but when you choose service here at the Automaster BMW you know are getting the best possible automotive care, tailored to you exact model. Only at the Automaster BMW will you find this expert group of certified BMW technicians near greater Burlington, who have years of experience working on BMW vehicles and understand the high level of performance a BMW X1, M4, or 5 Series can deliver. To keep your BMW delivering a world class driving experience at peak efficiency, let our experts take care of the dirty work.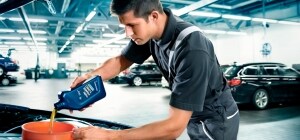 What is an oil change?
An oil change is one of the most basic services your BMW will need, but possibly the most important. Motor oil is essentially the blood that keeps your engine running. An oil change service is when a trained BMW technician drains the dirty oil out of the engine, replaces it with clean oil, and replaces the oil filter. Clean motor oil keeps your engine running at peak efficiency and performance.
Why do I need an oil change?
Oil changes are very important. Motor oil keeps all of the moving parts of the engine from creating friction and heating up. If your oil is old and friction and heat are created, you risk warping your pistons, valves, and the engine. Eventually, your engine could seize and stop running all together. Regular oil changes also prevent dirt from building up on your engine and will help improve your fuel economy.
How often do I need an oil change?
The recommended interval for changing your oil to maintain a healthy engine is every 7,500 miles. Your Service Indicator Lights or Service Interval System can also tell you when you need to schedule an oil change.
The service team here at The Automaster BMW will also inform you when it may be time to have your oil changed, based on the date of your last oil change.
How can I tell if I need an oil change?
There are a few easy ways you can tell if your oil needs to be changed and your low oil light hasn't come on yet. If your engine seems to be louder than normal when driving or when you start up, the oil may be too old and need to be changed. Another easy way to tell if your BMW is in need of an oil change is if you are experiencing "sputtering performance". A clogged oil filter will not let oil pass through as it should which will affect your engines ability to maintain a consistent and smooth speed. The last way you can tell that you need to change your BMW's oil is if you can see or smell engine exhaust. This is a sign that your oil is too old and dirty.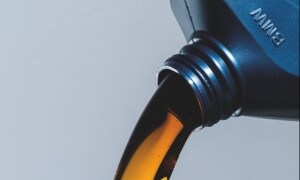 What kind of engine oil is best for my BMW?
What type of oil your BMW requires will vary between models. Our technicians know what type of motor oil your BMW needs. You can also check your Owner's Manual to find what type of oil you need.
Choosing the right oil for your BMW can make a huge difference. BMW offers three specific motor oils to help your BMW reach its full potential.
The first type of motor oil from BMW is Silver. Silver is best for sustainable driving; like daily commuting.
Next is Gold oil from BMW. Gold motor oil is for world-class performance and high engine protection.
The last motor oil from BMW is Red. Red motor oil is specifically tailored to BMW M high-performance engines to provide exceptional bearing and extreme protection in racing conditions.
---
Visit the Automaster BMW, Serving Burlington, Winooski, Essex & Beyond, For Oil Changes & Other Quality Auto Service
Oil is the lifeline of your BMW, and an oil change should not be overlooked as a simple service. We are confident that you, like other BMW drivers in the South Burlington area, love your BMW for the smooth and powerful driving experience you get every time you get behind the wheel. So when it comes time to change your oil, or have any other service performed, the Automaster BMW is the first and only place to bring your car or SUV.
The Automaster BMW is honored to help drivers from Shelburne and Essex to Stowe, South Burlington and everywhere in between find the perfect BMW and keep it running like new for many miles to come. To schedule an appointment for an oil change give us a call at 800-639-8033 or schedule your service online.
Questions About Oil Changes or Other Auto Services? Contact Us:
* Indicates a required field