Problems With Your Brakes Around Greater Burlington?
Let Us Help at The Automaster BMW
Here at our Vermont BMW dealership, we strive to promote safe, responsible vehicle ownership. Having your BMW serviced regularly, and addressing any issues that may arise between services, is imperative to your safety and the safety of everyone on the road. It should go without saying that brakes are one of the most crucial parts of your vehicle, and any brake-related concerns should be dealt with promptly and by a professional; that's where we come in.
Here at The Automaster BMW, we want to share with you some important information regarding how your brakes work, some of the most common brake issues that drivers face, and how to best maintain the health of your brakes. If you have any immediate concerns, we encourage you to reach out to our expert BMW service team as soon as possible.
---
How Your Brakes Work
Modern automobiles like the new BMW models at our Vermont dealership are incredibly high-tech and sophisticated machines. As you might expect, their braking systems are equally as advanced, which is why we recommend having them inspected or serviced by a professional, like one of our BMW experts. However, a quick review of some basic principles can help you understand why your brakes are so important.
A tremendous amount of power is required for a fast-moving car to stop on a dime, and this is essentially why brakes utilize hydraulics. Hydraulic brake systems consist of pipes filled with fluid that can instantly multiply and transmit force from one place to another. That's how simply pressing the brake pedal can create enough force to slow you down at high speeds.
When you stop, the moving energy of the car is converted into heat in the brake pads of the system. There are two major types of brakes with subtle differences.
Drum brakes use components referred to as shoes, which press outwards against the wheel hub to create friction and slow you down. Today, drum brakes are less common in new vehicles.
With disc brakes, a caliper is pressed down onto a piston, causing the brake pads to clamp along the brake disc, creating friction so you can come to a stop. Disc brakes are more commonly used today.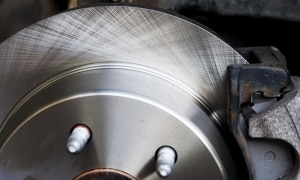 ---
Common Issues with Brakes
Slow to Respond
Your brakes should react immediately when you press on the brake pedal, beginning to decelerate your vehicle right away. If you don't experience this immediate reaction, there indeed is an issue. This may be caused by an air leak in the hydraulic brake fluid system, or possibly by worn out brake pads, which could cause further problems later down the road. For your safety, and to prevent more costly damage to other elements of the brake system, you should bring your vehicle in and have the brakes checked right away.
Vibrations When Stopping
If you have noticed your brakes or steering wheel vibrate when you hit the brakes, whether you're in bumper to bumper traffic in downtown Burlington or slowing more gradually to get off I-89 in Winooski, this usually indicates an issue with your brake discs. Extreme weather conditions can cause them to distort, but it's an easy fix at our service center near Willison.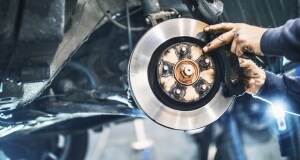 Strange Grinding or Squealing Noises
As the most common concern with our Burlington and Stowe area customers, this noisy issue almost always has to do with your brake pads. This can certainly become dangerous if left unchecked, and also can result in very expensive repairs needed if your brake pads cause further damage to your brake discs. You should bring your BMW or other vehicle in to us promptly for a fix.
Sinking or Spongy Pedal
Have you ever noticed that your brake pedal sinks to the floor or feels spongy when you decelerate? If so, this typically means that your system has a brake fluid leak. This could compromise your ability to stop and become a serious safety concern, so have your brakes inspected by an expert right away if you experience this.
Pulsing Brakes
Pulsing brakes can be another relatively common issue, however, this can also present a serious safety issue. Whether the cause is your brake pads having trouble maintaining contact with the brake disc, or the rubber seals having difficulty disengaging, you should always bring your vehicle in to have this symptom handled sooner rather than later.
---
Drivers Throughout the Green Mountain State Trust the Automaster BMW with Their Brake Needs
When it comes to brakes, we highly recommend that you address any concerns promptly. That way, you can address potential issues before they become a more pressing problem on your way to Stowe for a day of skiing or on your way to an important meeting in Burlington.
The Automaster BMW is home to a state-of-the-art service department that employs highly trained, BMW-certified technicians, so your ride will be in very capable hands. Please feel free to get in touch with us or visit our dealership, conveniently located nearby to Essex and South Burlington, if you have any questions or concerns about your brakes or any other aspect of your vehicle.
Don't delay any further! Whether your drive a BMW or a car from another automaker, we encourage you to have your brakes inspected here at The Automaster BMW today to avoid expensive repairs and, most importantly, the dangers posed by faulty brakes.
Questions About Your Brakes? Contact Our Experts:
* Indicates a required field