Snow Tires are a Necessity for Responsible Winter Driving in Vermont
When it comes to winter in Vermont, we all know that road conditions can be challenging. Snow, ice, slush, and sometimes limited visibility are all obstacles we face on a regular basis during the winter months here in greater Burlington. While techniques for safer winter driving - accelerating and decelerating slowly, putting more space between you and the car you're following, avoiding stopping on hills - can certainly be helpful, another element is hugely important: your tires.
Making sure your BMW or other car is ready for the brutally cold months is vital for your safety and your vehicle's performance. Equipping your vehicle with high-quality winter tires is the most important step you can take to ensure your transportation needs are met safely and responsibly.
For your own safety as well as the safety of your fellow drivers on the roads of Burlington, Williston, and beyond, buy a set of winter tires this year.
---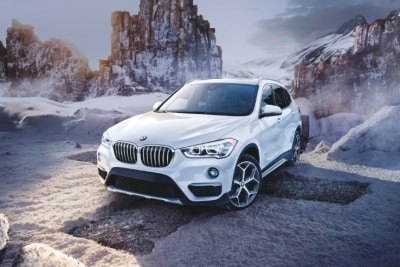 Why Do I Need Snow Tires?
The fact of the matter is, regardless of how good of a driver you are, top-quality winter tires are truly mandatory here in the Green Mountain State. Every year when snow begins to fall and the roads become dangerous, you'll see cars, SUVs and pickup trucks alike stuck on patches of ice, snowy hills, or even those that have slid off of the street into a ditch. Winter driving can be hazardous, but a well-equipped vehicle, along with safe driving techniques, is your best chance for success.
Even on vehicles equipped with BMW xDrive or another all wheel drive technology, snow tires are perhaps your greatest asset against the winter elements. With unpredictable conditions down our main roads in Shelburne and Burlington - and especially on the roads less traveled - winter tires provide a level of stability to your driving experience.
How Do Winter Tires Work?
Snow tires can significantly improve your winter driving experience, and improve safety for you as well as everyone else on the road.
The tread rubber of a winter tire does not stiffen in colder weather, unlike that of an all season or summer tire. Instead, tread rubber is designed to be flexible, which allows for more control, grip, and traction on difficult road situations. Snow tires also have deeper tread depths and unique tread patterns, reducing the buildup of snow, and are designed to move more easily through snow and slush. Moreover, winter tires have a number of biting edges and thousands of tiny slits in the tread. This helps provide traction on ice.
---
How Can I Learn More?
If you would like to learn more about how winter tires work or why they are necessary, our friendly team of experts would be more than happy to help. You can also contact our service team to discuss getting your tires changed, or storing your seasonal tires at our on-site facility.

Whether you are in Shelburne, Burlington, Stowe, Williston, Hanover, NH, or Plattsburgh, NY, our team are more than happy to invite you to The Automaster BMW to find your dream vehicle and care for it in the years to come.
---
Questions About Winter Tires? Contact Our Experts:
* Indicates a required field